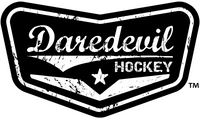 ABOUT US
Daredevil Hockey was born from a desire to inspire and foster greatness in every athlete. Developed for Men and Women, and now available in Youth sizes for Girls and Boys.
Great athletes demand the best of themselves at all times. Every shift is a tryout. A one day contract, that they renew day in and day out with unrelenting tenacity. It is this same passion that drives us to become the best.
Science has proven that compression and advanced moisture-wicking enhances performance. Until now, this performance often came at the expense of protection. 
DAREDEVIL HOCKEY = performance + protection. 
We design and develop elite level athletic performance apparel that arms you with the peace of mind and protection that ensures your talent surfaces to the top.
Our Story             
As a parent and as a volunteer hockey trainer on my child's hockey team in 2011, I witnessed an event on the ice that propelled me into the creation of a product that all hockey players, coaches, and officials could wear to help protect themselves from potentially catastrophic injuries. 
One day after my child's game, we stayed around the arena to watch a friend of the family play in the following game. Within the first minutes of play I watched in terror as I saw a young player fall to his knees on the ice and not even a second later an opposing players' skate spun around cutting the child's inner thigh between his shin-pad and hockey pant, and missing his femoral artery by less than an inch. If that artery were lacerated, it would have taken a mere five minutes, (exactly 300 seconds) for all the blood in his body to drain. As a trainer, I knew we were not equipped, nor trained, to apply a tourniquet to minimize blood loss. I went home that night in shock and quickly thereafter began researching the subject and injury statistics in greater detail. I discovered that lacerations are in fact the leading cause of injuries in ice hockey and that there are very few choices for players in the realm of cut-resistant apparel. It was incredible to me that in such a high contact sport, where players wear razor sharp blades attached to their feet, that they did not have better overall protection. I thought about safety, security and performance and became excited about the notion that hockey players out there would perform so much better if they knew and felt they were better protected. It is from this experience, as a parent and as a hockey trainer, witnessing a potentially fatal accident, that Daredevil Hockey was born.
Our mission is to ensure that all who play hockey – play protected by mitigating career and life-threatening laceration injuries by wearing our apparel – balancing performance + protection.
BUY NOW
OUR TECHNOLOGY
COMPRESSION:
Maximizes your on ice performance with increased blood flow, oxygen and nutrient delivery to your muscles.
Faster recovery by flushing out lactic acid and carbon dioxide from your muscles and prevents inflammation. Improves muscle efficiency, and endurance during practices and games.
The lightweight and advanced moisture-wicking properties of the material keeps your body cool to help optimize your on ice performance.
Our goal was to create essential compression-style base-layer garments light enough and strong enough to help athletes by providing protection to all vulnerable areas of the body not covered by traditional hockey equipment and without compromising performance.
From our first prototype, I reviewed a vast number of fabrics and various cut-resistant materials but nothing I was seeing matched my vision. After five years of testing, I landed on a thin and flexible, super lightweight, moisture-wicking fabric that is perfect for what high-performing athletes like you need. From that moment forward with our chosen fabric blend, I developed a compression-style pant, crew neck top and compression arm sleeves and integrated cut-resistant 4-way stretchable and breathable aramid fabric overlays to protect key vulnerable areas like the back of the legs, around the ankles, above the knees, around the forearms, and under the arms to protect athletes from lacerations to the following vital arteries: femoral, subclavian, axillary, brachial and ulnar. A laceration to any of the main arteries in the human body will result in full blood loss within 300 seconds if not treated efficiently and effectively.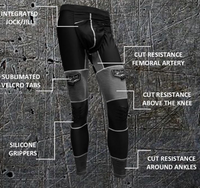 OUR DIFFERENCE
 PROTECTION:
Mitigate the risk of life or career threatening skate lacerations with breathable cut-resistant aramid fiber. 
Play without fear knowing that the exposed areas of your body including your Achilles Tendon, calves, hamstrings, ankles, inner thighs, and forearms and wrists are protected.
Compression Clothing was first prescribed by doctors to patients that had poor circulation to improve blood flow back into the heart and to assist in the prevention of blood clots. Later in the 1980's, sports industry apparel companies began introducing products with integrated compression technology to assist in muscle recovery time, strain and soreness and to improve overall athletic performance.
Aramid Fiber was first developed in the 1960's by accident and the material that is made from aramid fiber is flexible, thin and strong. So strong in fact that the breaking tenacity is roughly 4-5times more than that of steel. At Daredevil we use aramid fabric overlays around the ankles, hamstrings, and calves as well as above the knees and inner thighs as well as around the forearms and underneath the arms providing protection to all vulnerable areas of the upper and lower body. 
Moisture-Wicking is what happens when synthetic fibers are treated with a solution to prevent water absorption into fabrics. By using moisture-wicking fabric in all our Daredevil Hockey apparel, athletes can expect moisture and sweat to evaporate rapidly away from the body keeping them cool and focused on enhancing their on-ice performance.
#DARETOBEGREAT
PRODUCT CARE
To wash place apparel inside-out into the washing machine, this way ensuring that the hook and loop sock tabs do not catch onto other items in the wash. Daredevil apparel should never be ironed, and for optimum care we recommend washing apparel in Cold Water cycles and hang dry.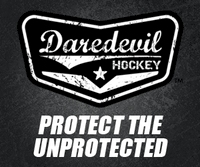 DAREDEVIL HOCKEY SIZING
ADULT SIZING PANTS
XS Waist 24" - 27" Inseam 29"
S Waist 28" - 31" Inseam 30"
M Waist 31" - 34" Inseam 31"
L Waist 34" - 37" Inseam 32"
XL Waist 37" - 40" Inseam 33" 
XXL Waist 40" - 44" Inseam 34"
ADULT SIZING SHIRTS/SLEEVES
XS Waist 26-28" Chest 30-32"
S Waist 28-30" Chest 34-36"
M Waist 31-34" Chest 38-40"
L Waist 35-38" Chest 42-44"
XL Waist 39-41" Chest 46-48" 
XXL Waist 43-46" Chest 50-52"
YOUTH SIZING PANTS
XS Waist 21" - 22" Inseam 23"
S Waist 22" - 23" Inseam 25"
M Waist 23" - 24" Inseam 26"
L Waist 24" - 25" Inseam 27"
XL Waist 26" - 27" Inseam 28"
YOUTH SIZING SHIRTS
XS Waist 23-24" Chest 25-26" US Youth Size 7
S Waist 24-25" Chest 26-27" US Youth Size 8
M Waist 25-27" Chest 27-29" US Youth Size 10-12
L Waist 27-29" Chest 29-31" US Youth Size 14
XL Waist 29-31" Chest 31-33" US Youth Size 16
BUY NOW
Testimonials
Before I got my hands on the new Daredevil Hockey Compression Jock Pant, I would have to force myself into the cold and wet regular compression pants from another brand if I had multiple practices a day. I am the goalie and it was terrible playing in wet clothes. Now that I have the new Daredevil Ronan Compression Pants, I can be on the ice more than 5 times a day and they will be dry before the next practice. I also really like how the cut-resistant fabric over the spandex are so comfortable around your legs and groin area and that it protects me from any potential injuries from sharp skate blades. As a goalie, I am vulnerable when I fall forward, and I used to be afraid when the backs of my legs were exposed. I am not afraid any more! I am very pleased with how they fit, they're like a second layer of skin and looking forward to seeing the growth of this company.

Ty C. - Bantam AAA Goalie - Bulldogs
Love my new Daredevil pants. The compression is great and makes me feel so good on the ice. They also help me feel more confident knowing that my legs are way better protected.

Payton R. - Defense - Bantam AAA - Flyers
Finding the perfect balance between mobility, comfort and safety has always been a challenge of mine when searching for a new sock holder or jock. The Daredevil Hockey Compression Jock Pant not only includes both of those pieces, but it makes the choice easier by being able to move freely without even knowing they are on, and never second guessing yourself when a skate blade comes anywhere near your legs. The light weight material also drys extremely fast, so multiple skates are no longer a sweaty and soaked battle. Overall, this product is quite unique and I would say essential if you are looking to play at a high level where having those exposed areas protected increases the longevity of your major junior or professional career.

James Lewis - North Bay Battalion and Windsor Spitfires
Dear Daredevil,

Last weekend my son (Bantam AAA Vaughan Kings Goalie) was playing in a Spring Tournament. He was in the crease covering a puck, when a skater came up fast and skated over the back of his leg. This could have been the end of his hockey career... I have seen it happen! But, thank God he was wearing Daredevil Hockey compression baselayer pants, he got up and walked away without a scratch. I don't even know what to say... We are beyond grateful. I never reach out and write these kinds of emails, but I felt I had to say Thank You again. Because of you, we can continue to enjoy the spring season and represent Canada this summer in the European Invitational in Italy! Thank you for saving my boy!!

Lisette K. (Parent) - Bantam AAA Vaughan Kings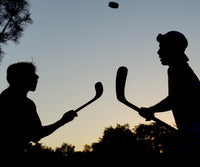 COMMUNITY
Daredevil Hockey apparel was created to help athletes be the best they can be but also to help them feel safe and secure while engaged in their favorite sport – the coolest game on ice. We know how important focus and control is for an athlete, but we also know that those things can be hindered by mental illnesses such as depression, anxiety, and addiction. At Daredevil Hockey we are committed to raising mental health awareness and ending the stigma.
Daredevil Hockey supports mental health awareness through community events and donations. Please feel free to reach out to us to let us know how we can support your local mental health organization.
CONTACT US
SHARE YOUR STORY WITH US!
Located in Burlington, Ontario CANADA, please feel free to reach out to us at any time via email: info@daredevilhockey.com.
Share your story via images and videos for a chance to WIN FREE DAREDEVIL HOCKEY SWAG!  
Please don't forget to join our mailing list for special offers.
Dealers and Agents welcome.
At DAREDEVIL HOCKEY, we DARE YOU TO BE GREAT!