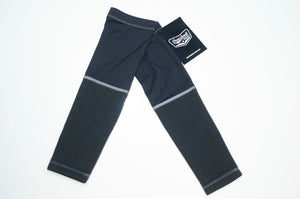 Adult Daredevil Hockey Ronan Compression Sleeves
Regular price $23.00 Sale
Adult Daredevil Hockey Ronan Compression Sleeves
Cutting Edge Technology that DARES you to be GREAT!
FEATURES
Lightweight performance enhancing compression 4-way stretch SUPRADRY™ moisture-wicking fabric with Flat Lock seams to reduce chafing
Anti-microbial and Anti-odour treatment
Breathable cut-resistant aramid fabric overlays around the forearms down to the wrists, and providing protection to the brachial and ulnar arteries
SPECIFICATIONS
88% Polyester 12% SPANDEX®
Partially lined with fabric made with DuPont™ Kevlar®     
DuPont™ and Kevlar® are registered trademarks of E.I. du Pont de Nemours and Company.                                                                         
CARE
Simply place the sleeves in the washing machine in a cold-water cycle only <30 degrees centigrade will preserve the life of the product for a recommended maximum of two seasons.
Sleeves are recommended to be hung to dry and should never be ironed.
SIZING (based on and same as Compression Crew Neck Shirt sizing)
XS Waist 26.5" - 27.5" Chest 30-32"
S Waist 28.5" - 30" Chest 34-36"
M Waist 31.5" - 33.5" Chest 38-40"
L Waist 35" - 37" Chest 42-44"
XL Waist 39" - 41" Chest 46-48" 
XXL Waist 43" - 45.5" Chest 50-52"